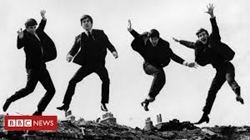 Photographer Fiona Adams, whose famous shot of The Beatles jumping in the air was used on the sleeve of the Twist and Shout EP, has died at the age of 84.
Adams captured the iconic image of the Fab Four on a London bomb site for Boyfriend magazine in April 1963.
The photo was then used on the record sleeve and has been described by the National Portrait Gallery as "the one that defined their early look".
Adams also snapped many other pop acts, from Bob Dylan to the Rolling Stones.
According to the late photographer's website, The Beatles "readily agreed" when Adams asked them to pose for Boyfriend magazine.
Having previously spotted an undeveloped bombsite near Euston station, she hailed a taxi and took them to the abandoned area.
Source: BBC News