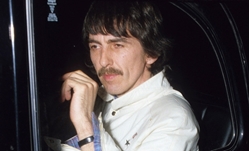 It was 36 years ago today (May 7th, 1981) that George Harrison released his tribute to John Lennon, called "All Those Years Ago." The song is notable for being the first record since the Beatles' 1970 breakup to feature all three surviving group members, George Harrison, Paul McCartney, and Ringo Starr.
According to several sources, the song was originally taped the year before for inclusion on Ringo's 1981 Stop And Smell The Roses album. Harrison had written the song with different lyrics for him to sing, with the song's basic track featuring himself on guitar and Ringo on drums. The song was left off the album, and after Lennon's murder in 1980, Harrison revamped the song into a tribute to his late bandmate.
In early 1981, Harrison, Paul and Linda McCartney, and Wings co-founder Denny Laine recorded the song's distinctive backing vocals at Harrison's home studio Friar Park. The vocal sessions were supervised by legendary Beatles producer George Martin and engineer Geoff Emerick, who at the time were recording with McCartney for hisTug Of War album.
Denny Laine who had known the Beatles intimately since touring with them in the mid-'60s while still in the Moody Blues, says that there was no difference between watching Harrison and McCartney recording in the '80s and during their '60s heyday: "They were just the same as they always were. The same as the public sees them. Y'know, they just had a sort of natural way of doing things. They weren't any different in front of me and Linda than they would have been when they were in a Beatles session. They're just Paul and George as you know them."
Source: Kshe95