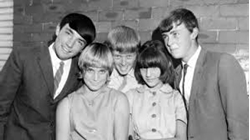 This week in February 1964, Beatlemania swept through Sydney and at least three North Shore schools cracked down on "moptop" haircuts. Our reporter met with local teens to discuss the "Beatle ban".
School students show off their Beatle haircuts in Gordon in Sydney's north on 25 February 1964, the year of The Beatles' Australian tour.
'Beatle war' is raging between the principals and teachers of Sydney schools and their pupils.
The main battlefront appears to be the North Shore, where Beatlemania is sweeping the schools.
Some pupils are even wearing Beatle haircuts in defiance of teacher warnings.
The picture above shows five teenage student "Beatles" at Gordon this week. They are, from left: Greg Cleary, 16, of St. Leo's, Wahroonga; Margot Manassen, 16, a former Ravenswood pupjl who now attends business college; Brett Thomas, 14, Chatswood High; Charlotte Watson, 14, Hornsby Girls' High; Bill Slater, 16, North Sydney High.
Source: The Sydney Morning Herald