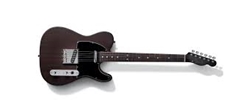 Dark, handsome, and understated, the Fender Rosewood Telecaster has much in common with George Harrison.
Custom-built for the guitarist in 1968 by Fender craftsmen Roger Rossmeisl and Philip Kubicki, it suited him down to the ground, although it was high on the roof of the Beatles' Apple Corps headquarters in London that this unique Tele design was unveiled, at the band's final public performance on January 30, 1969.
The origin of the Fender Rosewood Telecaster likely stems from a meeting at Apple Corp in 1968 set up by Don Randall, Leo Fender's original business partner and head of the company's sales division.
Source: Rod Brakes/guitarplayer.com