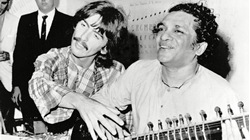 The estate of George Harrison has launched a new record label, HariSongs, that will focus on Indian classical and world music. The label was launched in partnership with Craft Recordings and will cull releases from the Harrison family archives, including the former Beatle's collaborations with some of the most famous Indian musicians.
The label's first two projects will be reissues of two recently out-of-print records: Ravi Shankar and Ali Akbar Khan's In Concert 1972 and Shankar's collaboration with Harrison, Chants of India. Both albums are available to stream and download today, April 27th.
Chants of India originally arrived in 1997 via Angel Records. Harrison produced the album, which Shankar recorded in Madras, India and Henley-on-Thames in the United Kingdom. The project found Shankar drawing inspiration from sacred Sanskrit texts, including the Vedas and Upanishads. The audio for this reissue was sourced and remastered from the original digital master tapes.
Source: Jon Blistein/rollingstone.com