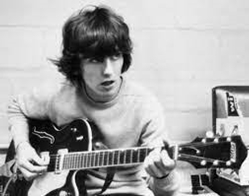 George Harrison had a reputation as the Quiet Beatle, but he wasn't afraid to show his sense of humor, as a Beatles producer quickly learned. George Martin, a producer who worked with the band for years, took some convincing to recognize that Harrison was a valuable part of the group. This could have been due in part to a snarky comment Harrison made to him early on in their relationship.
"The best thing I can say to people that are curious about that is George was probably everything that you thought he was, and then some more," Tom Petty told NPR. "Very funny man; he could just kill me with his humor. He was a great guy and I miss him terribly."
Keith Richards also said that he appreciated Harrison's humor.
"So George and I always used to have that thing of, 'Well, how's your end holding up?' He was a very quiet and enigmatic guy in many ways," he told Rolling Stone in 2001. "He had a very sly sense of humor, very quiet. But there was always this unspoken bond between us."
Source: Emma McKee/cheatsheet.com