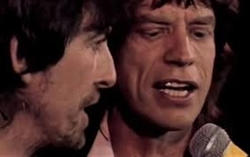 There are a few jams in the history of Rock and Roll Hall of Fame performances which will live long in the memory for the musicians who share the stage. But surely there's no bigger performance than this jam session on 'I Saw Her Standing There' featuring George Harrison, Bob Dylan, Mick Jagger and a plethora of stars all take the stage.
There have been some incredible moments in Rock Hall's long history, but none rank as highly as the institution's third-ever event. That night saw The Beatles, The Beach Boys, Bob Dylan, and the Drifters all be inducted into the quickly filling mantle of music.
While The Beatles were being inducted into the Hall of Fame in 1988, not all the surviving members of the iconic band would attend the event. George Harrison and Ringo Starr would arrive at the show without Paul McCartney. The singer boycotted the event as the result of ongoing business disputes.
Source: faroutmagazine.co.uk