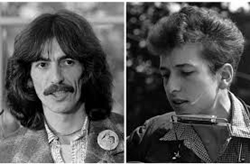 The longtime friendship between Bob Dylan and The Beatles' own George Harrison is a long one deeply entrenched in the joy of one another's creativity. In fact, in 1992, Dylan would be the major reason for Harrison to perform for what would be one of the last times.
The legendary Quiet Beatle had been out from underneath the large shadow the Fab Four had cast for a few years now. His iconic album All Things Must Pass had ascertained Harrison his legendary status on his solo work alone but, despite all his experience, Harrison was never a big fan of touring after his 1974 tour.
The pain of that tour with Ravi Shankar had clearly landed quite heavily on Harrison and for many years, despite commercial success like his 1987 record Cloud Nine, the Quiet Beatle was, for the main part, remaining quiet.
Yet in 1990 something seemed to change, Harrison looked as if he gearing up for a tour of his own, for the first time since 1974. After sharing the stage in Los Angeles in 1990, Harrison, to seemingly dip his toe into the touring water, joined the legendary Eric Clapton for a joint tour of Japan, the next year.
Source: Jack Whatley/faroutmagazine.co.uk