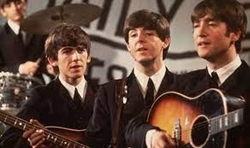 George Harrison may not have been given enough of a chance to write and record many of his songs for The Beatles records, but the ones he did squeeze through have become all-time greats. Tracks like Here Comes the Sun, Something, I Me Mine and I Need You are just a few examples, but one of his best-known tracks appeared on The White Album, While My Guitar Gently Weeps. However, he almost didn't get it recorded until he started thinking outside the box.
Harrison wrote While My Guitar Gently Weeps and at his mother's house in the 1960s and instantly knew he had a hit.
When he took it to the recording studio in the following days, however, he found himself struggling to get the song laid down by the rest of the band.
"We tried to record it," Harrison recalled. "But John and Paul were so used to just cranking out their tunes that it was very difficult at times to get serious and record one of mine."
Source: Callum Crumlish/express.co.uk