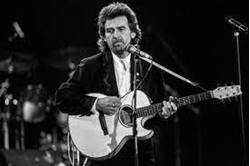 George Harrison once revealed that he read his album reviews. However, that didn't mean he cared about what they said. He read them out of curiosity, but they didn't affect him or his playing. Anyway, George wasn't making music for the critics.
The former Beatle never liked explaining himself or his songs. He said whatever he was trying to say was plain as day in the lyrics. If they weren't obvious, he was OK with fans' interpretations. However, George wasn't making music for anyone but God. In the mid-1960s, Ravi Shankar taught him that "God is sound."
So, it's surprising that George cared enough to read about what others said about his music. George explained he read some reviews if he came across them.
"I canceled all my newspapers five years ago, so I don't really know what people say," he said. "If I do see a review of an album I'll read it, although it doesn't make too much difference what they say, because I am what I am whether they like it or not."
Source: Hannah Wigandt/cheatsheet.com