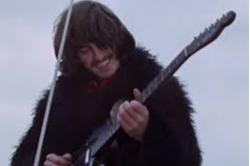 The Beatles discussed radically shifting their approach on a potential follow-up to Abbey Road.
John Lennon suggested the proposed recording more fairly showcase each from the group's principal composers, giving George Harrison equal footing for the first time. He would have the opportunity to contribute four songs, the same as Lennon and Paul McCartney. (Ringo Starr, Lennon added, could have two – "If he wants them.")
The news comes courtesy of Beatles expert Mark Lewisohn, who unearthed a tape from a meeting the Beatles held on Sept. 8, 1969, at Apple headquarters on London's Savile Row. The recording was made while Starr was hospitalized with stomach problems. "Ringo – you can't be here, but this is so you can hear what we're discussing," Lennon says at the beginning of the tape.
Source: ultimateclassicrock.com