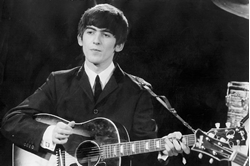 Very few people are aware that George Harrison released two solo albums whilst still a Beatle.
The first is Wonderwall Music and the second is Electronic Sound. Wonderall Music doubles as Harrison's first solo album and the soundtrack to the film Wonderwall, directed by Joe Massot and starring Jane Birkin, one-time wife of Serge Gainsbourg and mother to Charlotte Gainsbourg. The songs on Wonderwall Music were largely instrumental and the recording was begun in late 1967 and continued into January of 1968. And one must keep in mind that it was music written for film. Even so, there are a few stand-outs.
It was a time when Harrison was deeply into India music, having by this point become quite adept at playing the sitar. The album opens with a hypnotizing track called "Microbes" and is followed by what is perhaps one of my favorite George Harrison songs, "Red Lady Too." The chord progressions, arrangements and instrumentation on this song are simply brilliant.
Source: DJ Pangburn/spin.com