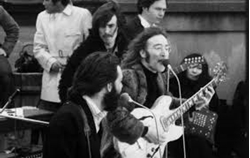 If you hear anything about the upcoming Peter Jackson documentary The Beatles: Get Back (due September 2020), you'll hear how it aims to tell a different story than Let It Be, the 1970 doc that showed the Fab Four headed towards their breakup.
You can count Paul McCartney and Ringo Starr, the two surviving Beatles, among those who see Get Back as a correction. "I am really happy that Peter has delved into our archives to make a film that shows the truth about The Beatles recording together," Paul said in a statement on the film's release.
If Get Back indeed shows a happy and united Fab Four, it would surprise most Beatles fans. After all, George Harrison did walk out on the band during the January 1969 sessions. And John Lennon described the "dreadful, dreadful feeling" hanging over the group at the time.
Source: cheatsheet.com