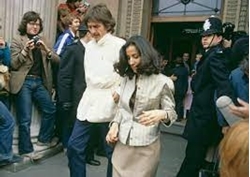 George Harrison's wife Olivia received hate mail and death threats from obsessive fans in 1989. She handled the situation with grace. However, that wasn't the last time Olivia had to deal with an obsessive fan. She battled one during a home invasion 10 years later.
In a recent interview with Yahoo Entertainment, Olivia discussed getting a plethora of hate mail and death threats in 1989. Instead of being worried that one of the obsessive fans would carry out their threats, Olivia was empathetic. She called some of them.
"Some people used to write crazy things, and some people were really disturbed," Olivia said. "On a couple of occasions, I called people who were really obsessed with George and just talked to them.
Source: cheatsheet.com