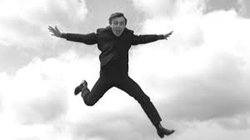 Gerry Marsden, lead singer of the 1960s British group Gerry and the Pacemakers that had such hits as "Ferry Cross the Mersey" and the song that became the anthem of Liverpool Football Club, "You'll Never Walk Alone," has died. He was 78.
His family said that Marsden died Sunday "after a short illness in no way connected with COVID-19" and that his wife, daughters and grandchildren are "devastated."
His friend Pete Price said on Instagram after speaking to Marsden's family that the singer died after a short illness related to a heart infection.
"I'm sending all the love in the world to (his wife) Pauline and his family," he said. "You'll Never Walk Alone."
Marsden was the lead singer of the band that found fame in the Merseybeat scene in the 1960s. Though another Liverpool band — The Beatles — reached superstardom, Gerry and the Pacemakers will always have a place in the city's consciousness because of "You'll Never Walk Alone."
Source: AP News