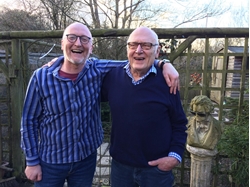 SCARILY, nearly half a century has passed since The Long and Winding Road became The Beatles' last hit single.
Composed by Paul McCartney, it has gone on to make millions – but how many knew that a musical arranger and producer from the North-East was behind the transformation of the song – and was paid the princely sum of £40 for his efforts?
Richard Hewson, born in Norton, near Stockton, was the man who added the sweeping orchestral arrangements to the ballad without McCartney even being told about the interference.
And Richard confesses to not even knowing much about The Beatles when he made his mark on the history of arguably the most influential band the world has ever seen.
"I really didn't know how big these people were," he says. "I'd heard of The Beatles, obviously, but I didn't realise when that record came out how huge it would be. I was just doing another gig."
The Beatles were on the point of breaking up in 1970 when Richard was called in by EMI to work on a song on the Let it Be album. The Beatles' new manager, Allen Klein, wasn't happy with the album and hired Phil Spector to "clean it up", with Richard tasked with adding "a massive orchestra" to The Long and Winding Road.
Source: Peter Barron/thenorthernecho.co.uk