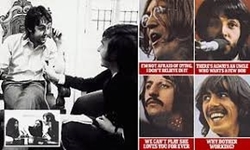 Fifty years ago this weekend, The Beatles completed their last recording session as a group.
The single to which they were putting the final touches was Let It Be, a McCartney masterpiece first recorded the previous year, onto which Harrison now added his famous electric guitar solo. Within weeks, the band would have split for ever.
This was no surprise: 1970 had dawned and Lennon and his long-time collaborator McCartney had scarcely shared a civil word in months.
David Wigg, a veteran Fleet Street and BBC journalist, interviews Paul and Linda McCartney. Wigg's interviews took place between 1969, just after the release of the album Abbey Road, and 1973, by which time the band had no chance of re-forming.
Source: Mark Edmonds/dailymail.co.uk