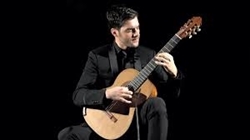 After wowing the local scene in his native Montenegro and winning awards in competitions across Europe, guitar virtuoso Milos Karadaglic received a scholarship to study at London's prestigious Royal Academy of Music. It was there, a decade ago, that he truly discovered the compositions of messieurs John Lennon and Paul McCartney and a quartet called The Beatles.
Karadaglic had never really paid attention to the Fab Four, other than passively listening as they wafted through the radio in his former home city of Podgorica. So, when tasked at the conservatory with studying the Japanese composer Toru Takemitsu's solo guitar arrangement of the 1965 ballad Yesterday, he approached it with fresh ears. "It is a bit of a paradox," he admits with a laugh.
"Because the last place you think you will discover The Beatles is at the Royal Academy of Music in London, but that was another one of those moments that made me think how incredibly universal music is. How, no matter what you play, and what you want to do, you can make it sound good on the guitar," he says.
Source: thenational.ae