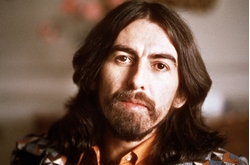 George Harrison's estate just announced the debut of HariSongs, a new label that will release selections from Harrison's archive of Indian classical and world music, as well as his recorded collaborations with artists over the years.
HariSongs' inaugural reissues are Ravi Shankar's Chants of India (produced by Harrison) and Ravi Shankar/Ali Akbar Khan/Alla Rakha's live recording In Concert — 1972, both of which are now available on streaming services for the first time.
The Beatles' guitarist first picked up the sitar during the filming of the group's preposterous slapstick film Help! in 1965. There was a break in filming during a restaurant scene in which someone gets thrown in a vat of soup while Indian musicians play on in the background, and one of the instruments caught George's eye.
Source: Morgan Enos/billboard.com