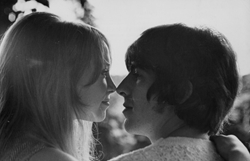 Around that time, she grew close to George's friend and singer Eric Clapton, who had made it known he had strong feelings for Pattie at the time. Her dedication to her husband meant she didn't act on it, and that led to Clapton's highly publicised battle with drugs and alcohol, before he eventually sought treatment and recovered around 1974.
"I realised I felt something but I tried to keep it under wraps. Things were so hard and difficult for George, I didn't want to add to his anxiety about everything. It was very, very difficult."
By the time Clapton was out of rehab, Pattie's marriage to George had hit rock bottom, and he had embarked on an affair with Ringo Starr's former wife Maureen.
Source: startsat60.com