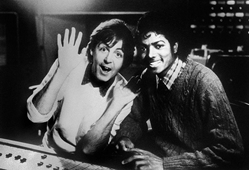 When The Beatles began their historic run in 1963, no one could guess that millions of people would know their songs by heart 56 years later. But here we are.
Whether you drop The White Album on your turntable or dial up Revolver on your phone, you're going to be able to sing along to at least half the tunes. Maybe you even know every word.
Either way, you can attribute this to the genius of John Lennon and Paul McCartney. While George and Ringo were obviously no slouches, the Lennon-McCartney songbook endures like few have in rock history.
However, by the time The Beatles had released their earliest albums, Lennon and McCartney had lost majority control of their own publishing rights. It's a crazy story that ended decades later with Michael Jackson owning the rights instead.
Source: cheatsheet.com