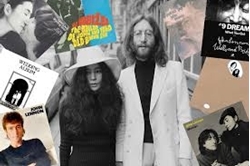 John Lennon began chronicling his love for Yoko Ono in the late '60s, and that narrative continued through a posthumous album released years after his murder.
In the end, these songs would account for half of Lennon's four U.K. chart toppers – beginning with the Beatles' "Ballad of John and Yoko." Recorded during an April 14, 1969 session with Paul McCartney, the single took fans into the flurry of activity surrounding their nuptials – including their difficulties, because of residency requirements, in finding a venue.
"It was very romantic. It's all in the song, 'The Ballad of John and Yoko,'" Lennon told Rolling Stone in 1970. "If you want to know how it happened, it's in there."
Source: ultimateclassicrock.com