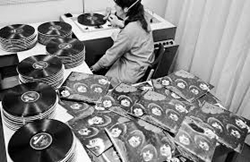 By 1965, The Beatles had written some great songs. They'd put "Please Please Me," "A Hard Day's Night," and the Paul McCartney masterpiece "Yesterday" on vinyl and sold millions of records around the world.
But as catchy as those tunes (and their song titles) were, the band had yet to name an album with any sort of creativity. Of their first five releases, the title either came from a song or film name (e.g., Help!) or had a generic name (e.g., With The Beatles).
Prior to the release of Rubber Soul (December '65), it was clear the band could do better. The record, which George Harrison called his favorite with The Beatles, featured classic tracks like "In My Life" and "Nowhere Man."
In a nod to the psychedelic age, the band used an stretched-out photo and bubble lettering for the album cover. And for the title, they used a phrase Paul heard an American bluesman had used to describe Mick Jagger.
Source: cheatsheet.com