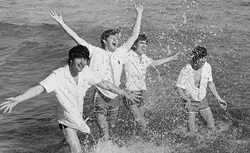 When you listen to the earliest Beatles albums, you are transported to a simple time in rock history. Hearing "I Want to Hold Your Hand," the band's first No. 1 U.S. hit, it's impossible to imagine this innocent gang going on to record The White Album five years later.
But those five years were a lifetime for a band whose every move was watched by fans and dissected by critics. By the time John Lennon was writing "Yer Blues" and Paul McCartney recording "Helter Skelter," that innocence seemed long gone.
However, when the Fab Four went their separate ways a few years later, no one in the band had turned 30. In brief, they were still very young men. It's a reminder of how incredibly young — and, yes, innocent — they were when they first arrived in America (kicking off Beatlemania) in 1964.
Source: cheatsheet.com