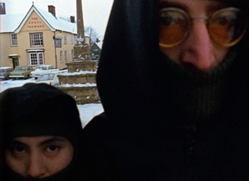 With all the Beatles brouhaha, it's easy to forget that Yoko Ono was a boundary-pushing and successful conceptual artist long before a certain Mr Lennon entered the picture.
In fact, he met her thanks to her artwork; cheekily taking a bite from an apple that was actually one of her installation pieces.
Born in Tokyo, Ono studied philosophy before moving to New York in 1953 and soon become a key figure in the city's avant-garde scene. In 1960, she opened her Chambers Street loft and presented a series of radical works with composer and artist La Monte Young.
One of her most famous works, Cut Piece, was first performed in 1964 and saw the artist sit alone on a stage in her best suit, with a pair of scissors in front of her. The audience had been instructed that they could take turns approaching her and use the scissors to cut off a small piece of her clothing, which was theirs to keep.
Source: creativeboom.com