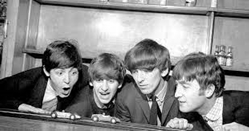 It's been more than 60 years since the Beatles played the Coventry Theatre, their first live show in the city. Gwen Danks was 14 and would wait outside the venue on Sunday afternoons waiting for autographs.
Now 74 and known as Gwen Payne, she remembers waiting outside and suddenly seeing George Harrison in a car. She managed to snap black and white photographs on the 'cheap plastic camera' she had appropriated from brother Graham.
Now, these never-before-seen snapshots and autographs are going under the hammer at a Midlands auction.
Now a grandmother-of-one who has lived her whole life in Coventry, Gwen's autograph book is packed with the signatures of dozens more 1960s stars including Dusty Springfield, Cliff Richard, The Kinks, Helen Shapiro and Cilla Black. That book and the photos are estimated to fetch £3,000 to £4,000 with Richard Winterton Auctioneers on Tuesday, June 6.
1963 was a pivotal year for the Beatles as John, Paul, George and Ringo consolidated their position as the UK's number one band.
Source: Rachel Stretton/coventrytelegraph.net