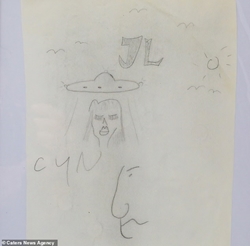 A sketch of a UFO by John Lennon is up for auction, along with his sci-fi magazines and a lock of his hair.
The Beatles singer-songwriter was reportedly fascinated by alien life, even writing about them, and was believed to have had 'UFO experiences'.
He drew the rarely seen sketch of a flying saucer in the 1950s or 1960s, then years later saw a UFO outside his apartment window traveling over New York's East River on August 23, 1974.
According to his lover May Pang, who was Yoko Ono's secretary, the star spotted a flying saucer - screaming at the window 'wait, take me with you' to what he believed was a UFO.
Source: Daily Mail