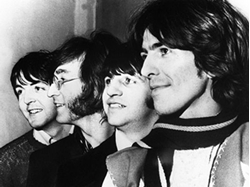 This past week as my husband Patrick and I were traveling, we took a break from our preferred news station and changed the channel to the Beatles station on Sirius XM Channel 18, where Peter Frampton produced a countdown of the top 50 romantic hits by the Beatles as chosen by listeners.
The satellite radio program served as a prelude to Valentine's Day, with the title "All You Need is Love—The Top 50 Beatles Love Songs Countdown." Songs like "Here, There, and Everywhere," "I Want to Hold Your Hand," "Michelle," "She Loves You," "Something," "Yesterday," "Love Me Do" and on and on.
Frampton, a friend of the Beatles and a legendary musician himself, was tailored to the task of hosting the countdown, adding Beatle trivia and historical tidbits to keep the program flowing. Over and over, he posited the Beatles wrote some of the best-known love songs of all time. The messages of the 50 selected love songs were definitely about love and romance and sweethearts.
Source: JJ Abernathy/thespectrum.com