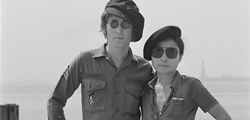 A free exhibition celebrating the meeting of John Lennon and Yoko Ono is launching to the public today (18 May) at the Museum of Liverpool.
The arrival of 'Double Fantasy – John & Yoko' coincides with this year's LightNight and the eve of the 50th anniversary of the couple's first night together on 19 May 1968, when they produced their first album 'Unfinished Music No. 1: Two Virgins'.
Made possible with the permission of Yoko Ono Lennon, who attended a special preview yesterday, the display draws from Yoko's private collection and features personal objects alongside art, music and film produced by the world-famous couple. Some of the items on show have never been displayed before.
Open until 22 April 2019, the exhibition uses interviews, quotes and lyrics to tell the story of John and Yoko's personal and creative relationship along with their political activism and peace campaigning in their own words.
Source: ymliverpool.com