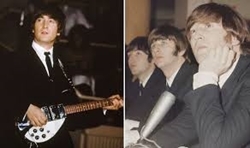 John Lennon wrote some incredible songs during his time in The Beatles and in his partnership with Paul McCartney. But do you know the one track he only came up with once he gave up trying to think of a song to write? It turns out that was Nowhere Man from 1965 album Rubber Soul.
Lennon told Playboy in 1980 how he had been trying to pen a new song for the album for hours.
He said: "I'd spent five hours that morning trying to write a song that was meaningful and good, and I finally gave up and lay down.
"Then Nowhere Man came, words and music, the whole damn thing as I lay down."
While 1960s Beatles biographer Hunter Davies quoted Lennon on his breakthrough.
Source: usadailyexpress -