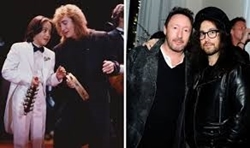 John Lennon was married to Cynthia, a young woman he met as the Beatles became big, with whom he had one child named Julian. After their marriage broke down, he married artist Yoko Ono and they had Sean. These two claim to have been treated very differently by their father.
Do Julian and Sean Lennon get on?
Brothers Julian and Sean Lennon are said to be pretty close.
When he was still alive, John opened up about his relationship with his sons but revealed it was very different.
Speaking about Julian, John told Playboy in 1980: "90 percent of the people on this planet, especially in the West, were born out of a bottle of whiskey on a Saturday night, and there was no intent to have children."
Source: Jenny Desborough/express.co.uk