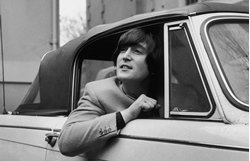 We've seen the screaming fans, heard about the packed concerts, and know everyone listened to The Beatles. (Everyone still does.) But once in a while, it's interesting to check in on the staggering numbers the band posted over the years.
Even compared to the rock giants Led Zeppelin that followed in the next decade, The Beatles' record sales stand tall. In fact, the British group claims the top spot in the history of record sales — and the number keeps going up every year.
So it's easy to see how the famed songwriting team of John Lennon and Paul McCartney made a fortune while The Beatles recorded and toured. McCartney continues to do so and ranks among the richest men to ever write a song.
However, it's a safe bet that, had he lived, Lennon would have become the richest musician to ever walk the earth. Here's a look at his successes and his net worth at the time of his murder in December 1980.
Source: cheatsheet.com