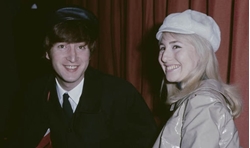 An open letter John Lennon wrote to Cynthia has been unearthed after 41 years
In the original letter, which is titled 'an open letter to Cynthia Twist' and is dated November 15, 1976, the former Beatle said Cynthia had an 'impaired' memory of their marriage.
He claimed their relationship was over long before Yoko Ono arrived on the scene and accused her of double standards for wishing to get away from her past with the Beatle, yet was happy to speak about it to magazines.
Lennon sent the letter to a US weekly magazine for them to publish with the request that it is 'printed without any edits.
I think it only fair to me and your readers to present my side of the story'.
He wrote it in response to an article Cynthia had published in an English women's magazine earlier that year.
Source: Express.co.uk