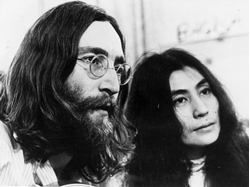 John Winston Ono Lennon (MBE), the co-founder of The Beatles, singer, songwriter and peace activist was born on October 9, 1940, in Liverpool, England.
When John was 11 years old, he discovered his love for his music through Elvis Presley's records and learnt Banjo. John's mother's death had a very deep impact on him which reflected in his behaviour, education and life.
Lennon formed the skiffle group, the Quarrymen. Skiffle is a music genre with blues, jazz, American folk influences, folk musical instruments which were a combination of manufactured and home-made instruments.
The Quarrymen evolved into the Beatles, with members John Lennon, Paul McCartney, George Harrison and Ringo Starr, a group which was widely regarded as the foremost and most influential music band in history.
Source: AuthorT Ivan Nischal/telanganatoday.com