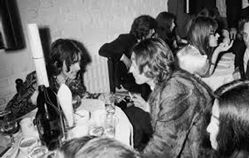 When Paul McCartney had George Harrison play guitar for John Lennon in 1958, George was 14 and looked even younger. Thinking back on those days before The Beatles existed, George noted how he small he was — and how he probably seemed to the 17-year-old John and his art school friends.
"I think he did feel a bit embarrassed about that because I was so tiny," George told Crawdaddy Magazine in 1977. "I only looked about 10 years old." But George could play guitar parts from the great Sun Records releases of the day. That was enough to get him into John and Paul's band.
Two decades later, after the Beatles' unparalleled success — both as a group and solo artists — John still thought of George as someone he'd helped make. "I think George still bears resentment toward me for being a daddy who left home," John said in the 1980 Playboy interviews collected in All We Are Saying.
Source: cheatsheet.com