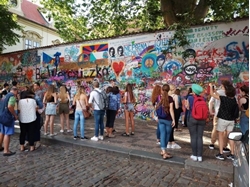 In India, when we say "the wall" in public discourse, we generally refer to former Indian cricket captain Rahul Dravid for his impenetrable batting. But in Prague, the wall makes John Lennon, the famous English singer-songwriter-activist, relevant in a conversation. And like the Indian wall, the Prague wall also stands impenetrable, in terms of spirit for freedom.
Although Lennon, who lived on this planet for just 40 autumns, did not ever visit the capital of the Czech Republic, his name is taken every moment in the picturesque city, courtesy the wall. And when I witnessed it, the feeling was, to say the least, exciting. For a first-timer in the historic city of Prague, it was equivalent to witnessing history from close quarters.
The special wall, known as the John Lennon Wall, is located Velkopřevorské náměstí in Mala Strana, which is not far from the French Embassy in Prague. Once an ordinary wall, it came to be associated with Lennon since the 1980s when people started treating it as a symbol of liberty by painting it with graffiti inspired by the iconic singer and lyrics from the unforgettable Beatles.
But why the wall was chosen as a platform to express liberty?
Lennon was a hero for the youth of central and Eastern Europe when the totalitarian rule of the communists was underway and the iron regimes had banned western pop songs, including those sung by Lennon, for he was a man who backed freedom. Some musicians were even put behind bars for playing Lennon's songs.
Source: Shubham Ghosh