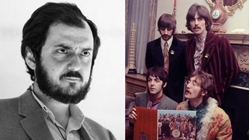 Because of his work on 2001: A Spacey Odyssey, The Shining, Dr. Strangelove and Paths Of Glory, to name but a few, Stanley Kubrick is rightfully regarded as one of the best directors of all time.
That's despite the fact that he only actually directed 13 feature films during his illustrious 46 year long career. Kubrick had many more unrealized ideas, scripts and projects, though.
I recently had the chance to speak to Kubrick's former right-hand man Leon Vitali for the documentary on his career "Filmworker." Vitali met the director when he was cast in "Barry Lyndon," but then put his acting career to one side so that he could work as Kubrick's filmworker up until his death.
During this time he was privy to a lot of information and secrets regarding Kubrick, especially when it came to his unproduced films. Vitali was more than happy to open up about these projects to me, so I started things off by quizzing him about the rumors The Beatles' wanted Kubrick to direct them in an adaptation of "The Lord Of The Rings."
"That was true. That was true," was Vitali's emphatic response. "They came to Stanley's office to talk about it. I don't think it was quite in Stanley Kubrick's ball-park that idea. Yes, it was something that they came up with."
Source: Gregory Wakeman /metro.us