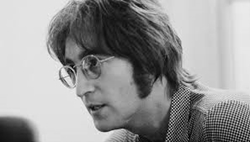 As a producer, Jack Douglas has helped shape some of the greatest albums in rock and roll history.
From Aerosmith to Cheap Trick to Rick Derringer to Alice Cooper to Clutch to John Lennon and Yoko Ono, Douglas knows rock stars better than most — perhaps better than anyone should.
And in a profession full of excess, insecurity and unrealistic expectations, Douglas says the easiest star he ever produced was also the biggest: Lennon.
Douglas worked with Lennon and Ono on their Grammy-winning 1980 album, Double Fantasy. On the latest episode of Ken Dashow's Beatles Revolution podcast, Douglas explains that, unlike many of his contemporaries, Lennon didn't sweat the small stuff. He also surrounded himself with people, like Douglas, whom he trusted with his songs.
"He drew a real line between who was the artist and who was the producer, and he liked to take direction," Douglas explains. "For example: you're putting together John's vocals. You'd think he would be there like ... [micromanaging] 'The 's' from this [take]...' You know, when you're working with Steven Tyler, he's going to want to break up the syllable on the song until I have to smack him... But with John, the only think he would ever say that he would get into my head with was, 'If I make a really bad mistake, make it louder, and it'll seem like something cool I did on purpose.'"
Source: iheart.com