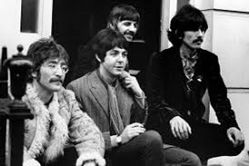 While The Beatles released Let It Be in 1970, most of the recordings for that record were already finished by early 1969. So Abbey Road turned out to be the last record they made as a band. Fittingly, the last bona fide track on the record is "The End."
Looking back, you could make the case that the end was in sight by the close of that summer ('69). After all, every Beatle had voiced his discontentment or walked out on a recording session by then. And John Lennon, who'd founded the group in the '50s, had become bored with the program.
However, John hadn't fully given up on the band when they finished with the Abbey Road sessions late in August. In a tape recently unveiled by Beatles scholar Mark Lewisohn, you can hear John planning for a future album while talking with his bandmates in the second week of September.
While John would announce he was quitting two weeks later, the recorded meeting with Paul McCartney and George Harrison reveals he had not yet crossed that final line.
Source: cheatsheet.com