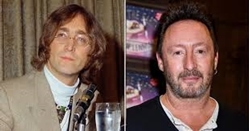 John Lennon's son Julian has revealed he recently had a cancer scare that saw him rushed to hospital and in need of an emergency operation.
The musician, 56, had to have a mole removed from his head, after being told the growth, that he'd had for all his life, had turned cancerous according to the results from a biopsy.
Within 48 hours, the mole was removed following emergency surgery and while the operation was a success, Julian revealed in a candid Facebook post that he is now waiting to receive more results back from further testing.
He admitted that the whole experience left him 'shaking inside', as the scare appeared to come from nowhere.
Julian wrote: 'The trouble is… you think you have time. A few days ago, I went to visit my dermatologist here in LA when she noticed a little bump on my head that was actually a mole that had been there, along with a birthmark, for the last 57 years.'
Source: Katie Storey/metro.co.uk