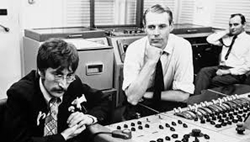 George Martin, who died in March of 2016, was, of course, the producer of The Beatles. He was not only the man guiding the creation of their records, but also the one responsible for getting them signed to the label at which he was employed, EMI – the UK company of which Capitol is an American wing.
But all labels, both in the UK and the US, initially rejected them, based on the erroneous assumption that solo artists, not bands, were all the record-buying public wanted.
George Martin, a classically-trained musician who was beloved by The Beatles, and others, for his comedy recordings with The Goon Show starring Peter Sellers, usually saw things in accord with the company. Yet he heard something singular in the music of this band.
Source: Paul Zollo/americansongwriter.com