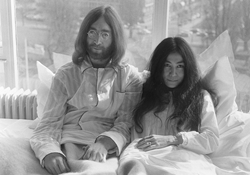 BED-IN FOR PEACE John and Yoko on their honeymoon in Amsterdam where they held a 'bed-in'.
It's 50 years since Beatle John Lennon made front page headlines in The Mayo News
IT is no wonder the arrival on Dorinish Island of Beatle John Lennon and his new girlfriend, Yoko Ono, in June 1968, ruffled a few feathers. Like the majority of Clew Bay's tiny inner islands, it was uninhabited by humans and happened to be the nesting season for its resident gulls and gannets: a rather stressful time from an avian perspective. The fact that Ms Ono was coiffed with a beehive bun didn't help the sense of confusion and, naturally, some of the feathered friends swooped on her assuming she was bearing new soft material for their nests.
Source: The Mayo News