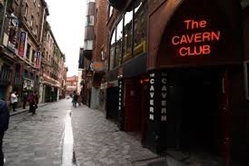 Liverpool's world famous Cavern Club is to become the centerpiece of an official Beatles Quarter to develop its global tourism appeal, the city's mayor announced Friday.
Mathew Street where the club is located at, famed for the rise of the Beatles pop group, is already a mecca for thousands of fans.
Mayor Joe Anderson is to ask the city cabinet to back a masterplan to attract new investment to the area to attract more tourists and fans to the area. It will also generate a more diverse mix of complimentary uses of buildings in the Mathew Street area that operate 24 hours a day.
The mayor's strategy will give the city council control over the future use of buildings in the quarter to attract new investment to build on Beatles heritage tourism which already earns the city nearly 130 million U.S. dollars a year.
A recent economic impact report found the Beatles related industry has been growing at up to 15 percent a year following the city's year as European Capital of Culture in 2008.
Source: Xinhua