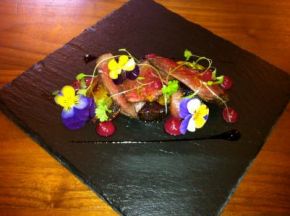 The award-winning Blakes Restaurant at Hard Days Night Hotel has launched its new A La Carte Spring menu entitled 'Here Comes The Sun'.
Executive Head Chef Paul Feery and his team have created an array of mouth-watering dishes that are perfect for the warmer months.
Starters include Scallops with Babaganosh and Pomegranate Dressing, a twist on the Classic BLT and traditional Thai Crab Spring Rolls.

Guests can also enjoy an impressive and diverse selection of main courses such as Mustard Herb Rack of Lamb, served with Fondant Potato, Broad Beans, Peas, and Mint Jus.

Read more on this story.......
Source: Click Liverpool