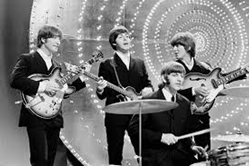 Previously lost footage of the Beatles performing live on BBC's "Top of the Pops" is allowing fans to see a "day in the life" of the Fab Four.
A collector based in Mexico has discovered an 11-second clip of the band performing "Paperback Writer" on a June 16, 1966, broadcast of "Pops." The BBC did not archive a tape of this episode, making this rediscovered footage the only known recording of this showcase.
Essentially a bootleg, the silent reel was filmed on an 8mm camera in the TV room of one Liverpool family.
"I think if you're a Beatles fans, it's the holy grail," says Chris Perry, a TV footage expert based in Birmingham, UK. He tells the BBC, "People thought it was gone forever because videotape wasn't kept in 1966. To find it all these years later was stunning."
Source: Hannah Sparks/nypost.com