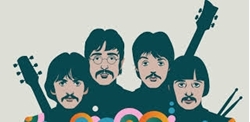 The 50th anniversary of Sergeant Pepper's Lonely Hearts Club Band was much celebrated in 2017. But this Christmas also marks 50 years since the release of another Beatles production that received much less critical acclaim – the Magical Mystery Tour film.
Much of the music within it was produced during a particularly fecund period (even by the Beatles' standards) and is, or course, peerless – from the music hall echoes of Your Mother Should Know through the plaintive, melodic Fool on the Hill to the boundary breaking I Am the Walrus.
Unfortunately the film itself fell far short of that artistic bar. First broadcast on Boxing Day 1967, it is, to put it mildly, seriously flawed. Incoherent, sexist, technically shaky and verging on boring, history hasn't been kind to its cinematic qualities.
Contemporary reviews and audience responses were also so generally scathing that Paul McCartney was moved to issue an apology of sorts to the television broadcast's 20m viewers. He said in a hastily convened interview:
Source: Adam Behr