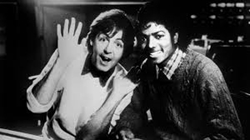 Paul McCartney and Michael Jackson are two of the most influential musicians in history, and although they originally had a good relationship, it turned sour for "business."
Some people believe that mixing friendship and business is the perfect recipe for disaster. Paul McCartney, who rose to fame with the English band The Beatles, learned it the hard way.
McCartney used to be a good friend of the King of Pop Michael Jackson. Initially, they got together for songwriting collaborations, and they came up with a few songs, including "The Girl Is Mine" and "Say, Say, Say."
The former was included in Jackson's "Thriller" album, while the latter made it into McCartney's "Pipes of Peace" album.
During that time, McCartney supposedly talked to Jackson about the lucrative business of music publishing rights, explaining some of the advantages of owning the rights to other musicians' popular and beloved music.
Source: Edduin Carvajal/news.amomama.com