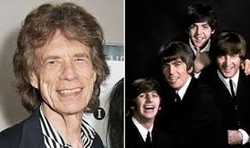 The Beatles and The Rolling Stones are two of the biggest bands to come out of the UK. And it was Mick Jagger who inducted the Fab Four into the Rock and Roll Hall of Fame back in 1988. During his speech, the singer revealed which Beatles song made him sick with jealousy.
During his induction speech, Jagger said: "At that point, the Stones were playing at these little clubs in London.
"[We were] doing Chuck Berry songs and blues and things.
"And we [were] a pretty scruffy lot and we thought that we were totally unique animals.
"I mean there was no one like us."
The Rolling Stones frontman continued: "And then we heard there was a group from Liverpool.
"This group, they had long hair, scruffy clothes but they had a record contract.
"And they had a record in the charts, with a bluesy harmonica on it, called Love Me Do.
"When I heard the combination of all these things, I was almost sick."
Source: George Simpson/express.co.uk