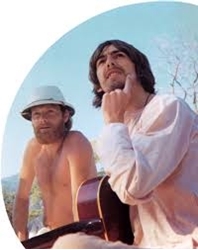 Summer can elicit a range of emotions from excitement to fear of missing out, and Beach Boys' frontman Mike Love addresses each one on his latest solo album "12 Sides of Summer."
Among original material, revamped band classics and covers, listeners will find a poignant reimagining of The Beatles' "Here Comes the Sun," written by Love's late friend, George Harrison.
"There was something very special about singing 'Here Comes the Sun' — a song that was so meaningful to me and millions of other people — on the album," says Love, who plans to perform the track in tribute to Harrison with The Beach Boys in Saratoga on Sunday. "Doing it with the traditional harmonies that we're known for was a beautiful and mystical experience."
Love's friendship with Harrison, dating back to the 1960s, was strengthened after The Beach Boys singer (and songwriter of classics "I Get Around," "Help Me, Rhonda," "Dance, Dance, Dance," "California Girls" and "Wouldn't It Be Nice") traveled with The Beatles to Rishikesh, India in 1968 to study under Maharishi Mahesh Yogi, the guru known for developing Transcendental Meditation.
Source: Joshua Rotter/sfexaminer.com