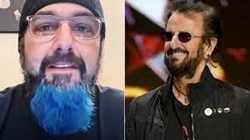 Mike Portnoy touched on The Beatles' classic Sergeant Pepper and named Ringo Starr his number-one drummer. He claimed The Beatles wouldn't have made its releases without Ringo Starr's musical skills.
Ringo Starr gained international fame as a member of The Beatles. He joined the band in 1962, replacing their original drummer Pete Best. The drummer played with them until their breakup in 1970. Starr was known for his distinctive drumming style, which was often described as steady and reliable yet also inventive and playful. He contributed vocals on some of The Beatles' most beloved songs, such as With a Little Help from My Friends and Yellow Submarine.
On the other hand, released in 1967, Sgt. Pepper's Lonely Hearts Club Band, is often cited as one of the greatest and most influential albums in the history of rock music. The album marked a significant departure from the band's earlier work. It also features innovative production techniques, such as the use of sound effects, tape loops, and reversed recording.
Source: Muharrem Doğan/metalcastle.net